Link to Frontier Fellowship on The City

Link to Rivertown Christian Ministries International
View Revelation 4 & 5 on YouTube!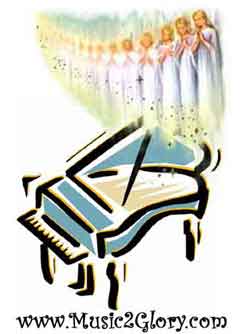 "Whatever you do, do it all to the glory of God." I Cor. 10:31
| | |
| --- | --- |
| | Music2Glory.com welcomes you to the ministry that God has planted to bring worshipers from every Tribe, Tongue, People and Nation together around His Throne. Music To The Glory of God was founded in 1995, to bring glory and pleasure to God our Father and our Lord Jesus Christ. We have continued with the purpose of fulfilling the vision of Revelation 5:9, given by our Lord and Savior Jesus Christ to His bride, the Church, in the Holy Scriptures. We invite people from every tribe, tongue and nation to join us at the throne of God Most High as we lift up His Name in all the earth! |
---
Copyright notice: © Copyright 1999, Music to the Glory of God and/or Robb and Julie Jacobs. Documents, links, and software are provided "as is", without any waranty, expressedor implied. We are in no way liable for any damages, direct or indirect, caused by the any of the provided documents, services or links.
Permission for personal use of all documents is hereby granted. However, documents and other items may NOT be freely distributed, unless such permissions, in writing, are granted and all provisions concerning such distribution of the document are met. The html markup pages in Music2Glory, including all logos and images, may not be reproduced without explicit written permission.
Music to the Glory of God and Music2Glory.com are trademarks of Julie Jacobs.